Intro
Dingo Sauce Co. was founded in North Fremantle in 2016 by Chef Leigh Nash.
We could tell you that the official launch of the company was the result of a well-thought out strategy and clearly articulated business plan but that would be a big fat lie.
In reality, Dingo happened pretty much by accident and as Leigh and Ailbhe regularly tell their friends, they are continually surprised at how they've somehow managed to find themselves running their very own company almost in spite of rather than because of their efforts.
Here's the abridged version of their rather long and winding story….
Dingo Origins
DINGO ORIGIN STORY
Our story begins in North Fremantle, Western Australia, with one Mr. Leigh Nash, a career chef for over 25 years,  in the advanced stages of chilli addiction – hot chilli consumes his thoughts, occupies all his available garden space and features heavily in his menus at work and at home.
Leigh has always been fascinated by Asian flavours – the intricate balance between sweet, spicy, hot and sour.  Nowhere is this more pronounced than in sauce making and he's spent many years playing around with recipes in commercial kitchens and dabbling with my his own blends at home mainly because he couldn't find anything available on a supermarket shelf that he really wanted to eat.  "Most off-the-shelf chilli sauces contain extract, stabilisers, thickeners and preservatives and that's not something I really wanted to add to my food" he says.
After a fair amount of experimentation and a whole lot of gut pain Leigh finally perfected his own version of a super hot fermented Sriracha and began bottling his own sauce in late 2015.  'It was really just a hobby in my spare time while working my full time job as a chef" he says.  "At the time Ailbhe had given up her paid job as a coastal geomorpholgist to spend more time with our daughter Lily and she'd taken over as the president of the P&C at Lily's school. She started to encourage me (ok, she nagged me) to refine a replicable sauce recipe that I could actually put into production if it was something I was serious about doing'.
Under 'gentle encouragement' he sold his prototype batch as a fundraiser for North Fremantle Primary School and when neighbours began knocking on the door and asking for refills he thought he might be just be onto something!
By early 2016, with the help of some awesome locally grown produce,  Leigh had honed his sauce to the point where he felt he had something genuinely special.   So without any great level of thought and certainly without a shred of a plan for the future, Leigh and Ailbhe (aka Mrs. Dingo) decided they should make the sauce caper legit. They bought a few cartons of bottles, registered a business name, had some labels designed and headed off to their first chilli meet.  They had no idea at the time, but just like that, Dingo Sauce Co. was born & life was about to change in some most unusual ways!
DINGO LEAVES THE DEN
Labels – check. Sauce – check. Erm, yeah, now what?
Pretty soon the Dingos found themselves with a ground swell of local support as news of Leigh's delicious Sriracha spreads through word of mouth and a raft of artisan stores around Perth wanted to get in on the action. At this point Team Dingo realised they needed to take the plunge – leave the comfort zone of 'hobby' sauce and get some proper production happening in a commercial kitchen.
A successful crowdfunding campaign in late 2016 allowed Leigh to invest in some much-needed equipment, bulk buy bottles and labels and expand the sauce range to include a mild sriracha option, a fermented sweet chilli sauce made from a bi-product of the sriracha cooking process and a Thai style chilli jam.
It was also around this time that Ailbhe finally caved in to Leighs incessant nagging to market a stupidly HOT hot sauce and the now infamous Widow Maker came into being. Credit for the name goes to Lily (aka mini Dingo) who designed a super-cool logo of a red back spider – a chilli on the spiders back replacing the usual tell-tale red dot! Although the design didn't make the final cut for the bottle, the name stuck and the Widow Maker sauce went on to become the 'hottest' seller in the Dingo range.
Through the next two years the Dingo business continued to grow, slowly and steadily, to expand the core range to eight sauces with up to thirteen products available through a 'seasonal series' – link to product info.
Dingo sauces can now be found in over 40 retailers in WA and through a number of online retailers.
One of the most rewarding elements of growing the Dingo brand has been the opportunity to work closely with local growers and producers to ensure only the finest, freshest, quality ingredients make it into our sauce range minimising our footprint as we go.
At the end of the day Dingo Sauce Co. is a labour of love driven largely by an enduring passion for all things chilli and a firm belief in following a transparent process from pasture to plate. Of course our goal is to get bigger and share what we believe is a really good product for others to enjoy. In doing that we are committed to keeping sight of what we feel makes us special – quality, local ingredients coming straight from the families who have grown them and a massive smattering of big, mad chilli love : )
DINGO DIVERSIFIES
2019 was a year of massive change for the Dingo team. Leigh moved on from his job as an executive chef of a local restaurant after 16 years and finally fulfilled a life-long dream of becoming his own boss.
As well as continuing to develop and grow their sauce business, team Dingo have branched out to create two new, exciting food entities – Dingo Dining Experiences & Dingo Dining Street Food.
'It's no secret that I'm pretty much obsessed with chilli ' says Leigh, "so now that I've got free reign, doing exactly the type of food I want to do, the way I want to do it I guess it's safe to say that chilli is a pretty prominent feature in most of my dishes. I'm cooking Asian food my way. Taking all the classic flavours, using the best fresh, local produce I can get my hands on here in WA and attempting to make really tasty food that people want to eat."
Hot Ones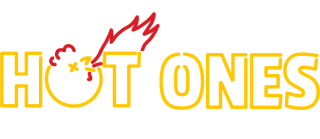 DINGO DOES HOT ONES
As 2020 dawns we're also beyond excited to be featuring on Season 11 of Hot Ones. For us it's an absolute dream come through, the culmination of a whole lot of hard work and just a smattering of extremely good luck!
We're so very grateful for all the ongoing support from all our customers here in Perth, Western Australia and we look forward to welcoming a whole new era of sauce fans from around the world to the Dingo family as we continue to grow and embrace this game-changing, surreally awesome opportunity.