Intro
Dingo Sauce Co. is a West Australian business founded by Leigh Nash and Ailbhe Travers in 2016.
Dingo Sauce Co. produces a range of hot sauces with a variety of taste sensations.
All products are made from fresh, high quality ingredients sourced from the pristine horticultural areas of Western Australia.
At Dingo Sauce we believe in creating the perfect balance between flavour and heat.  Our sauces are thought-provoking, taste-bud-tantalising and, yes, sweat inducing!   We pride ourselves on working directly with West Australian growers and producers to ensure that the marriage of amazing ingredients and fantastic flavour profiles always remain at our core.
We aim to be a low waste/no waste kitchen and build our sauces on seasonally sourced, locally available ingredients wherever possible.  We believe in keeping it 'real' when it comes to our food and create all-natural products free from added colours, flavours, stabilisers, preservatives and extracts.
Dingo Origins
DINGO ORIGIN STORY
Leigh Nash, a career chef for over 25 years,  has spent many years perfectly his chilli sauce recipes at home because he couldn't find a supermarket alternative that he really wanted to eat.  "Most off-the-shelf chilli sauces contain extract, stabilisers, thickeners and preservatives and that's not something I really wanted to add to my food" he says.
After a fair amount of experimentation and a whole lot of gut pain Leigh finally perfected his own version of a super hot fermented Sriracha and began bottling his own sauce in late 2015.
By early 2016, with the help of some awesome locally grown produce,  Leigh had honed his sauce to the point where he felt he had something genuinely special.  So with the help of business partner Ailbhe and a crowd funding capital raise, Dingo Sauce Co moved from a home hobby to an official business ready to set the world on 'fire'!
DINGO LEAVES THE DEN
The official launch of Dingo Sauce Co. in 2016 was followed by a  ground swell of local support as news of their delicious Sriracha spreads through word of mouth and a raft of artisan stores around Perth wanted to get in on the action.
At late 2016 Dingo also made a fateful decision to market a stupidly HOT hot sauce and the now infamous Widow Maker came into being. Credit for the name goes to Lily (aka mini Dingo) who designed a super-cool logo of a red back spider – a chilli on the spiders back replacing the usual tell-tale red dot! Although the design didn't make the final cut for the bottle, the name stuck and the Widow Maker sauce went on to become the 'hottest' seller in the Dingo range.
Through the next two years the Dingo business continued to grow, slowly and steadily, to expand the core range to eight sauces with up to thirteen products available through a 'seasonal series'.  Appearing on Hot Ones in 2020 and again in 2022 with their Widow Maker and Psycho sauces as the 9th hottest sauce in the line-up,  hot sauce lovers all around the world have had the opportunity to sample the Dingo brand and all the very best flavours that  West Australia has to offer.
Dingo sauces can now be found in over 40 retailers in WA as well as exported to the USA, Singapore and the UK and is available through a number of online retailers 
Hot Ones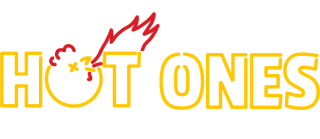 DINGO DOES HOT ONES
The opportunity of a lifetime presented itself to our West Australian business in early 2020 when our Widow Maker sauce was selected to feature on Season 11 of Hot Ones. Only the second Australian sauce ever to do so and the first to make the coveted 'Number 9' spot, the Dingo brand was catapulted onto a global stage almost over night.  This allowed us to welcome a whole new era of sauce fans from around the world to the Dingo family as we continued to grow and embrace this game-changing opportunity to grow and expand.
While the world changed forever in March 2020, Dingo continued to make amazing hot sauces and once again had the extraordinary honour of being featured on Hot Ones in early 2022.  This time our Psycho hot sauce took up 9th position and Dingo made history as the first Australian company to be invited back onto the line up.  We couldn't be more proud and seeing the likes of Will Ferrel, Margot Robbie, Zac Efron, Post Malone and Lizzo vibe on our seriously HOT sauces on such a prestigious platform really is a dream come true!